The Journey of Our Scents
The journey of our fragrances starts in Genoa, with Guglielmo Embriaco, at the end of the 11th Century. Year 1099, First Crusade. Guglielmo Embriaco, Genoese merchant with a genuine business acumen, equips two vessels and, heading eastwards, gets to the Harbor of Jaffa.
The advent of a massive hostile navy though, obliges Embriaco to dismantle the ships, and carry them inland towards Jerusalem, long besieged by the Count of Toulouse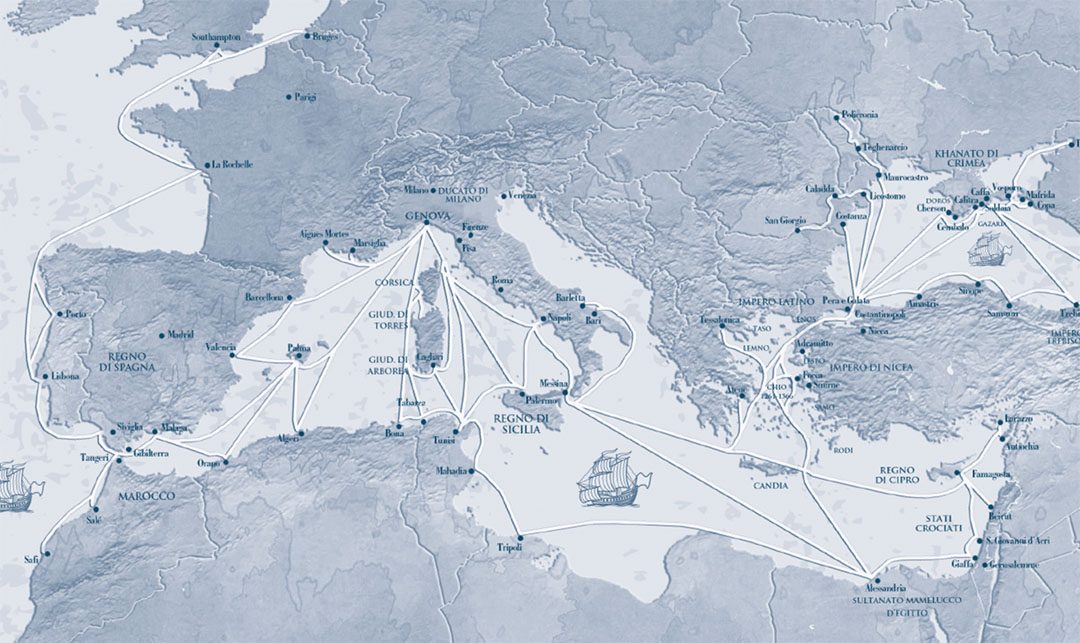 Guglielmo Mallet Head
Guglielmo Embriaco, was not only an excellent seaman but also a great strategist. Together with his sailors and boat builders, converted the lumber from their dismantled ships into massive siege towers.
Thus, he marched with his sailors to the assault of Jerusalem's walls, leading his "army" to the conquest of the Holy City. Thanks to his warlike fury and his military leadership, Guglielmo Embriaco earns his sobriquet "Mallet Head". "Januensis ergo Mercator".
The triumphal return to his mother land, full of fame and richness, marks the turning point of Genoa's destiny. As a matter of fact, the local noble families, following the footsteps of Mallet Head, focused on conquering new harbours and commercial bases, expanding Genoa's influence around the Mediterranean Sea, even beyond the Pillars of Hercules.
From Antioch, Byzantium and Trabzon Ports, Genoese galleys carried treasures even more precious and rare than gold into Europe: spices and the mysterious secrets of the perfumer's craft, luxury goods tented by all the fancy European Courts.
---
Genoa, The Superb
Starting from the 11th Century, incense, myrrh, all the scarcest spices and scents distilled by Arabian alchemists, move into the holds of the Genoese galleys towards Marseille, Malaga, Southampton and Bruges Ports. Genoa will be the spotlight of all the greatest European powerhouses, set to become "The Superb" over the centuries.